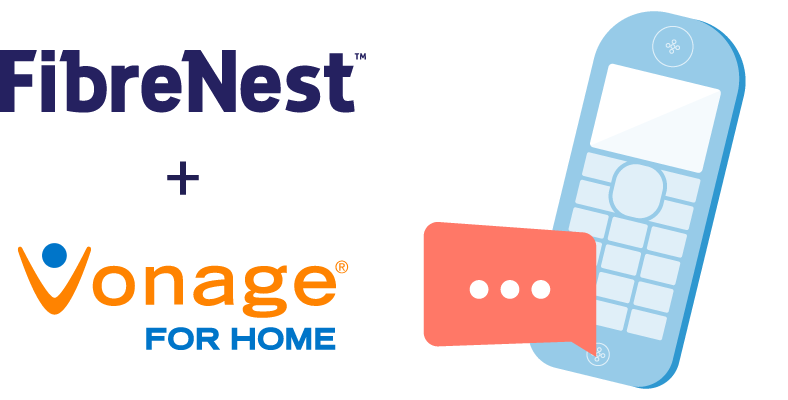 Need a Home Phone Service?
We've teamed up with Vonage for Home, who are experts in providing home phone services over the internet.
If you've got broadband at your current address you can activate your Vonage service within a few days. There's no need to wait until you move, you can join Vonage today! Your Vonage voice service will work perfectly over your FibreNest broadband too, you just need bring your Vonage Box™ with you when you move. Things couldn't be simpler.
Vonage's Voice over IP (VoIP)1 service works seamlessly over any broadband service, and is jam packed with lots of useful features such as:
Voicemail

Call Divert

Simultaneous ringing

Anonymous call blocking
Call plans are available from just £6.99 per month2
---
Vonage for Home key benefits:
Competitive plans available for UK and international calling.
Never miss a call using the Vonage Extensions® app.
Keep your current phone number, or select a new number.
Setup is simple, quick, and easy.
Better still, if you sign up using the button below, after 30 days Vonage will credit you back any activation fees and your first month's call plan charge3.
Joining Vonage just takes a few minutes, you can be up and running in no time at all. You can usually keep your existing home phone number or get a brand new one, it's up to you.
After you sign-up, Vonage will send you a neat little adapter called a Vonage Box™, which allows you to use your existing telephone handset to make calls over the internet from home. There's also a great free mobile app called the Vonage Extensions® App4 which allows you to use your Vonage home call plan on the go.